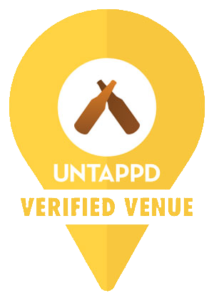 Olemme myös Untappdissa!
Löydät alla olevan listan myös Untappdista. Check-innaa maistamasi oluet sovelluksen kautta, laita Bar Explosive seurantaan niin saat ensimmäisenä tiedon uusista tulokkaista!
Visiting on Tap
These kegs are on fast rotation, hurry up to have yours!
Kimito Brewing Feeling the Galaxy 6.2%

IPA - Milkshake 20 IBU Winner of #kimitokeiky 2018 beer competition. Galaxy hopped New England IPA brewed with barley, wheat, oats and lactose.

Sideshow Brewery / Brewcats Mur Mur 4.7%

Fruit Beer 15 IBU Slightly tart cherry ale with low hops and carbonation.
On Tap
Beers available throughout the year.
Brouwerij van Hoegaarden Hoegaarden Wit / Blanche 4.9%

Witbier 15 IBU 500 years of hard work went into making this beer that features the aroma of orange peel, coriander and herbs that the merry monks imported from sunny Curacao. Speaking of which: pouring Hoegaarden is just like letting the sun fall into your glass: light yellow and naturally murky. 5.80 € 6.80 €

Heineken Heineken 5.0%

Lager - Euro 19 IBU Heineken is a 5% ABV euro pale lager, made by Heineken International since 1873. It is available in a 4. 5.00 € 6.00 €
Bottles
Beers available on bottles
Visiting Bottles
Small batch beers visiting on selection